For Wireless Internet and managed WiFi services, Edge Broadband installs a small radio device on your roof or antenna. This antenna links your home to the internet via one of our local high capacity towers. A cable runs from the antenna into your house and connects to a power adapter and wireless router. 
What to Expect
For wireless customers, here's what to expect:
Edge Broadband requests your physical address and performs a site survey to evaluate service availability.
Edge Broadband reaches out to discuss the specifics and schedule your installation.
On the day of the installation, technicians arrive within 2 hours before or after the start time to install the antenna and connect it to your router. Technicians can also help you connect your computer.
There is a one-time $199 installation fee. *$99 discount when you sign up for Managed WiFi
Upgrade Options
For our basic wireless internet service, you can use your own router or purchase one from another retailer.
For an additional $8.99 per month, you can opt-in for our managed WiFi service.  Our managed WiFi service includes a premium WiFi6 wireless router, with included remote and onsite WiFi support (onsite support only after remote troubleshooting is completed, additional charges may be applied if onsite service call is for issues not related to our managed WiFi), free software upgrades and replacements if the router was to fail.
Managed WiFi customers may also add-on VoIP phone services for $25/month. Our VoIP phone service features unlimited local and long-distance calling with standard calling features (i.e. call forwarding, call blocking, and caller ID).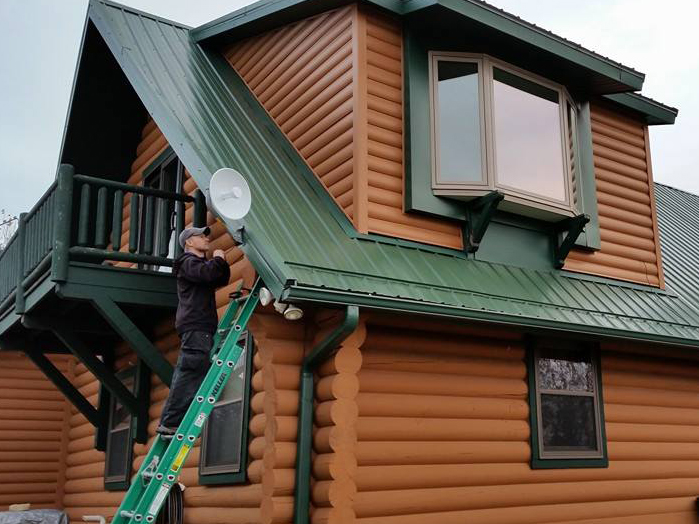 All prices shown are what you pay, all taxes and fees are included. 
There is a one-time $199 installation fee for all packages*
*$99 discount applied to normal installation of $199 when you sign up for Managed WiFi
1Mbps Upload

5Mbps Download

No Data Caps

No Overages
Great for web browsing, social networking, email, online shopping, music streaming, and gaming.
1.5Mbps Upload

10Mbps Download

No Data Caps

No Overages

10Mbps SpeedBurst

8Mbps sustained
Great for web browsing, social networking, email, shopping, music and video streaming, chat and video chat.
2Mbps Upload

20Mbps Download

No Data Caps

No Overages

20Mbps SpeedBurst

10Mbps sustained
Does everything the 6Mbps package will do plus HD movie streaming, online gaming, and multiple users.
Private IP
All services provide a private shared IP.  If you require your own public static IP, those are available for $5/month per IP.
Hardware
The mounting brackets, 100ft of wiring, and all necessary hardware is included. We connect our wire to your PC or your wireless router. Charges may apply for extra hardware needed.
Equipment
You receive a free radio antenna rental. If this device is broken during a storm, we replace it free of charge. (Requires installation of our outdoor grounded and shielded cable.)
Support
We are based right in Whitewater. We are available for fast, local, friendly support. Charges may apply for PC support and repair.
Upgrade Your Internet Service
High-speed internet with local and reliable support available 24/7