Fiber Internet Available in Rural Elkhorn and Whitewater
A massive improvement over your existing internet connection, Edge Broadband Fiber connects directly from your residence to our central office and offers lightning-fast speeds of up to 1000Mbps (1Gbps).
Our media needs are increasing daily – working from home – virtual learning – and streaming entertainment – and are becoming more interactive. High quality images and and lag free video are on demand. Fiber has the capacity to make this a reality without interruptions.
Fiber to the Home (FTTH) is an optimal solution to meeting the demands of the future. Edge Broadband is currently making it available in a variety of communities throughout Southeast Wisconsin.
View the interactive map on the right to see where fiber is live and where we are expanding!
For fiber internet, a fiber cable is connected to your house via a fiber unit mounted on the side of your house by other utilities. The cable runs from the fiber unit and connects to a power adaptor and wireless router in your house.
What to Expect
For broadband customers, here's what to expect:
Edge Broadband verifies that your address is within our coverage area.
Edge Broadband reaches out to discuss the specifics and schedule your installation.
On the day of the installation, technicians will arrive in your 2 hour window to install your fiber line. We will temporarily lay the fiber line on your lawn from the box at the road to our grey modem box or Network Interface Device (NID) installed on your home and mark it with orange flags. The tech will install a line from the NID inside your home to your wireless router.  
After the installation, Edge Broadband will contact Diggers Hotline for them to come mark other buried utilities the path of your temporary fiber line. Edge Broadband will then come back and bury the line within 1-3 weeks, weather permitting. 
Upgrade Options
Wireless Router: For $8.99 per month, you can opt-in for our Managed WiFi Service. Our managed WiFi service includes a premium WiFi6 wireless router, with included remote and onsite WiFi support (onsite support only after remote troubleshooting is completed, additional charges may be applied if onsite service call is for issues not related to our managed WiFi), free software upgrades and replacements if the router was to fail.
Mesh Extenders: You can add mesh extenders to our managed WiFi service to cover any dead or hard to reach spaces in your home. Our mesh extenders have the same features as our managed WiFi service for easy support when you need help.  You can purchase each extender for a onetime fee of $95 or rent each unit for $5/m. Installation included. Also, receive a $99 discount on your installation as shown in the pricing below when you go with our Managed WiFi for at least 12 months.
Landline Phone: Customer may also add-on residential VoIP phone services for $25/month. Our VoIP phone service features unlimited local and long-distance calling with standard calling features (i.e. call forwarding, call blocking, and caller ID). Business Phone starts at $30/m. Contact us for a free review to see how we can save your business money on your phone needs.
Protection Plan: For $4.99/m you can cover any accidental damage to your homes wiring or equipment. The plan covers the cost of the service call and any repair and/or replacement needed for damaged wiring, jacks, and/or equipment that were previously installed by an Edge Broadband technician.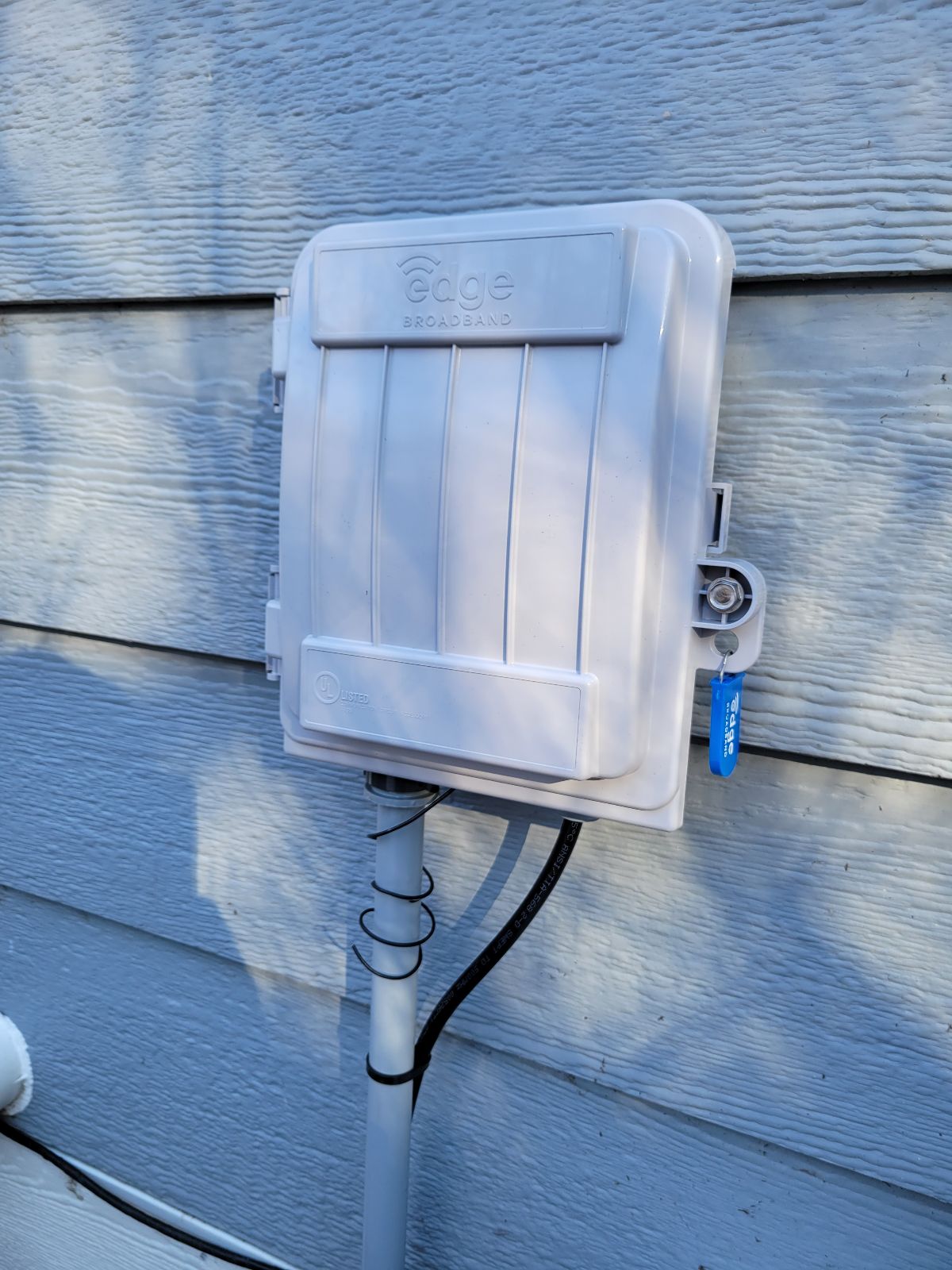 All prices shown are what you pay, all taxes and fees are included. 
Basic Edge Fiber
Up to 50 Mbps
$99 Installation w/Managed WiFi

$199 Installation without Managed WiFi

50Mbps Download

10Mbps Upload

No Data Caps

No Overages
Great for web browsing, social networking, email, online shopping, music streaming, and gaming.
Power Edge Fiber
Up to 300 Mbps
$49 Installation w/Managed WiFi

$149 Installation without Managed WiFi

300Mbps Download

100Mbps Upload

No Data Caps

No Overages
Great for web browsing, social networking, email, shopping, music and video streaming, chat and video chat.
Ultra Edge Fiber
Up to 500 Mbps
FREE Installation w/Managed WiFi

$99 Installation without Managed WiFi

500Mbps Download

500Mbps Upload

No Data Caps

No Overages
Does everything the PowerEdge package will do plus 4k HD movie streaming, online gaming, and multiple users.
Gig Edge Fiber
Up to 1,000 Mbps
FREE Installation w/Managed WiFi

LIMITED TIME – Get GigEdge for $86/m and price locked for life

1,000Mbps Download

1,000Mbps Upload

No Data Caps

No Overages
Private IP
All services provide a private shared IP.  If you require your own public IP, please contact us and request a public IP.
Hardware
The mounting brackets, 100ft of wiring, and all necessary hardware is included. We connect our wire to your PC or your wireless router. Charges may apply for extra hardware needed.
Equipment
You receive a free fiber modem rental. If this device is broken during a storm, we replace it free of charge. 
Support
We are based right in Elkhorn. We are available for fast, local, friendly support. Charges may apply for PC support and repair.
Upgrade Your Internet Service
High-speed, scalable internet with local and reliable support available 24/7